Electric Off-Road Vehicles? New opportunities are emerging!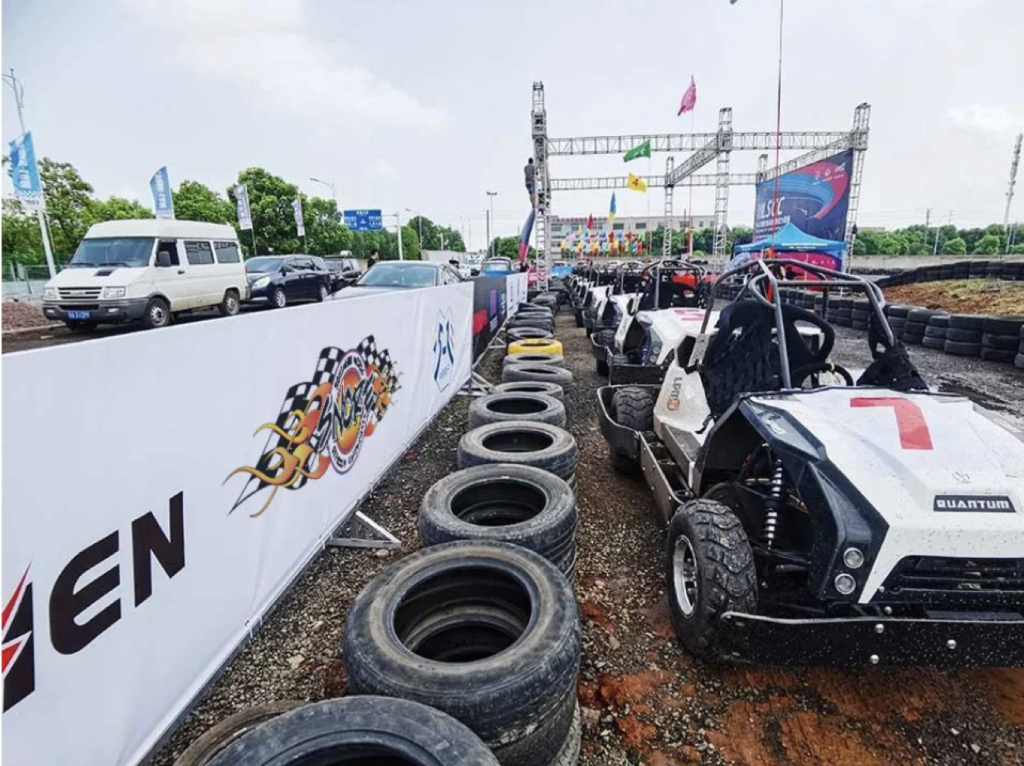 What do you think of electric karts as an introduction to off-road motorsports? For those people who are used to the roar of gasoline engines, will electric vehicles still be attractive and fascinating? On July 18, 2021, our partner, Wuhan Little Green Man Power Technology Co., Ltd, held a special event in Wuhan, China, an Electric Off-Road Vehicle Rally. The main purpose of this event was to introduce this light-weight and user-friendly electric vehicle to the market, while introducing people who have never been exposed to off-road motorsports, an opportunity to get to know and love the sport.
The vehicle is named"Lightning," which is a new energy light-weight off-road vehicle designed and manufactured by Little Green Man company. Earlier this year, it won the 2021 German Red Dot Design Award. Based on the global trend of new energy vehicle production. "Lightning" is designed to integrate electric drive system with the American off-road style and promote it in the Chinese market.
The competition was held on Little Green Man's closed track. The obstacle-crossing track mode enhances people's understanding of traditional racing. The spectators in the stands burst into gasps and claps; the fans were excited when the electric vehicles leaped and turned corners one after another. It was clear that the Little Green Man company was promoting American-style off-road vehicles and races that people had rarely or never seen before, and their attempts were successful. Audiences are embracing this new kind of event and sport.
The event also attracted the attention of "The Chutian Metropolis Daily." This media report highlighted the pioneering of the League of Super Charged Cars (LSCC) event and the scarcity of off-road events in China. As the largest official media in Wuhan city, Chutian Metropolis Daily is also one of the leading media outlets attracting the most attention from Chinese readers. Its readers and subscribers cover all fields and age groups in Hubei Province. This report undoubtedly opens a window for electric off-road vehicle racing to face the Chinese market. Little Green Man company also took this opportunity to formally introduce to the Chinese consumers the light off-road vehicle – "Lightning" and its American off-road affiliation. This event news was published on the same page as Olympic information. The Olympics have been on the Chinese populations' radar since they were announced, and this shows how much attention has been paid to the electric vehicle off-road sport. With its low entry threshold and popularity, the LSCC successfully made a fantastic start for the Little Green Man company to promote American off-road culture in China. After the race, the short video of electric off-road vehicle racing was played and liked by millions of people on Douyin (TikTok China), and has attracted the attention and support of many auto sports enthusiasts.
The contestants in the competition are not traditional professional racers, but members from the student teams of major Universities in Wuhan. Young people have a wide acceptance to new things, so Little Green Man company is promoting American off-road racing and off-road culture first to the young population.
It is worth mentioning that this event was jointly organized by Little Green Man company and Jianghan University China Motorsports Academy. The latter is a racing academy jointly managed by the Wuhan Sports Bureau and the Federation of Automobile And Motorcycle Sports of the People's Republic of China. This participation strongly shows that the promotion of electric off-road vehicles and the holding of off-road events are very recognized and promising in China.
The host city of this event, Wuhan, is also worth introducing. Wuhan, a city of over 14 million people, was very early in the development of China's huge automobile industry and has an extremely solid industrial manufacturing foundation and a motor sports atmosphere. The introduction of American-style off-road events and culture promotion in Wuhan is undoubtedly a very correct choice.
Little Green Man's efforts and activities in holding off-road races have been very successful. The acceptance of the vehicles and race styles by spectators and racers has greatly exceeded expectations. The Chinese motor sports market has experienced a big bounce! When the Buggy and V8 cars come to the track, it will ignite the Chinese market and Chinese passion for off-road racing!
Our partner, Wuhan Little Green Man Power Technology Co., Ltd., is a company specializing in the development and manufacturing of high-performance sports off-road vehicles and the operation of off-road events in Wuhan, Hubei, China, and it is expected to expand events elsewhere in China. The team at Little Green Man comes from the cross-country vehicle and cross-country racing industry. Based on the technology of the American cross-country racing industry, it absorbs the advantages of American cross-country racing and focuses on the research and development of intelligent cross-country vehicles and intelligent equipment and use it for entertainment, experience and education. The basic goal is to grow the sport in China as both an educational and an entertainment experience.
It was an easy choice for Wuhan Little Green Man Power Technology Co. Ltd.to partner up with S.N.O.R.E.. Southern Nevada Off-Road Enthusiasts is the longest running off-road racing organization in the United States, founded in 1967. S.N.O.R.E. is proud to partner with Little Green Man's endeavors in spreading the love of off-road motorsports to China.