Bob Jensen has seen it all ranging from off-road racing in Vegas to the Battle at GuadalCanal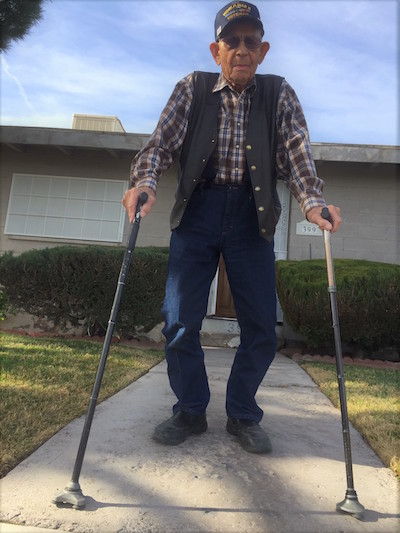 Long-time Las Vegan Bob Jensen is among a long list of off-road enthusiasts that recall the days when a hearty group of Southern Nevada Off Road Enthusiasts gathered each month at John Herda's Saloon on South Highland Avenue.
Jensen's job with SNORE was to drive an old school bus with the timing crew to and from race sites throughout Southern Nevada in the 1960s and 1970s.
A group of off road lovers including Jensen's wife, Ruthe, and Denny Selleck's, wife, Wauna, were among those supporters who scored each race during the year.
Jensen was – and still is – renowned for his untold skill of keeping the school bus running throughout the year. Leaving Las Vegas High School – he was drafted out of school in 1942 – had to be a big eye-opener for a teenager headed for the South Pacific and the Philippines and the Battle of GuadalCanal on Solomon Islands that lasted until February of 1943.
While riding his Caterpillar tractor one day, Jensen looked up to see Dwight D. Eisenhower, the five-star general in the Army.
One of Jensen's biggest disappointments arose when he learned that the American government dumped D-4 Caterpillars over board rather returning them to American soil. During his stay, Jensen was entrenched in riding Caterpillars and dump trucks.
Now 96, Jensen turns 97 in May. He lives in the same single-story house where he and wife, Ruthe, lived for more than 40 years raising four children including daughters Merle, Judy and Sherl along with son, David.
In fact, Bob Jensen might have thought that he had been drafted once again considering that a Las Vegas tour bus barreled through the family's front door on Mesquite Avenue several year ago.
In traditional Jensen fashion, Bob didn't demand living quarters while the house was being re-built, and instead slept in the back of the home while construction was ongoing.
"Naw, we didn't need to move out of the house," Bob explained, whose, son, David, was sleeping on a couch at the time and narrowly missed the aftermath. "The back of the house was fine."
Off-road racing has always been dangerous, but Jensen's time serving the Army at GuadalCanal in the 1940s was the real deal especially considering that he was still in his teens.
The war between the U.S. and Japan was enough to get anyone's attention, but Jensen didn't hesitate a bit in his efforts to help wherever necessary.
Jensen's ability to work on most anything has always been a tribute to the man's multi-faceted talent in World War II. His built-in twang combined with his ability to fix most anything makes him comfortable working on everything from Caterpillar tractors in the Pacific for General  MacArthur to that old school bus at SNORE off-road race events at stops such as the old Spanish Trail, Caliente and Eldorado Valley, to name a few.
'Rather than load up the tractors and send them home, they would simply run off the side of a ship and into the water," explained Jensen. "It was a terrible waste of thousands of dollars in expensive equipment."
What might be a tribute to the Caterpillar brand during World War II, Jensen has several models that he built piece by piece in somewhat of a tribute to the Caterpillar tractors of the World War II era.
Jensen was raised on a ranch in Twin Falls, Ida. so mechanical ability was a natural for him.
"It's all part of my heritage," Jensen said. "When our country was in need of help many years ago, there was no question that we would be there."
It's not hard finding people who appreciate Jensen's dedication.
"Bob Jensen is a true treasure," said Kenny Freeman, whose family is also charter members of SNORE. "There's nobody like him; and his dedication is unmatched.
"Bob is a very mild-mannered person, who doesn't make a big deal out of what he has accomplished over the years.  From being a long-time resident of Las Vegas to his time spent at QuadaCanal in the South Pacific, Bob could write a book on what he has accomplished."
By Mike Henle
www.mikehenle.com
CONTACT: Mike Henle, The Idea Co., 702-279-3483.