SNORE Ends 2019 Season with Huge Patrick's Signs/McKenzie's Rage at the River Event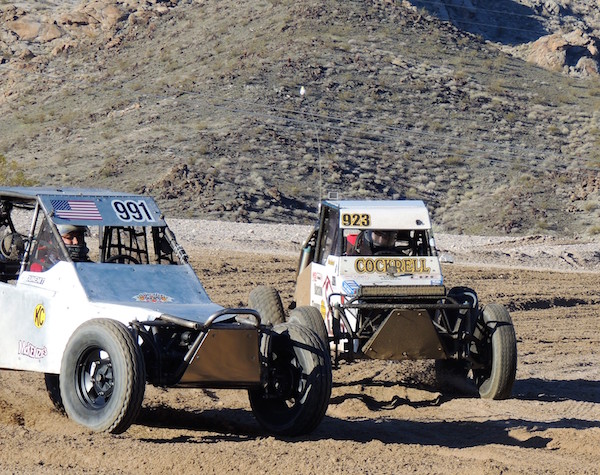 LAUGHLIN, Nev. — Veteran SNORE enthusiasts have seen their share of standout fields over the years and the latest gathering at Laughlin was one for the books.
From buggies to trucks and in-between, SNORE's year-ending Patrick's Signs/McKenzie's Rage at the River event especially impressed everyone during the event run Dec. 13-15.
In fact, rumor had it that the gaming executives of Laughlin were already planning for a repeat performance in 2020 complete with more seating; not to mention another record field of entries so big that reading the results might require the help of an executive with Harper and Row.
From the available hotel rooms to the view of the Colorado River and more than 350 race vehicles, the only element missing was aerial views like the ones seen from the seats ofa Collins Brothers helicopters that featured prominent off-road enthusiast and South Point Casino owner Michael Gaughan, whose 44 year-old son, Brendan, lured TV cameras and nationwide publicity when he flipped his NASCAR Sprint Cup car at Talladega SpeedwayOct. 14.
If there is such a thing as gluttons for punishment in the desert, the Rage at the River offered everything from good straight-aways to tight-turns on a 12-mile course that challenged anyone who wanted to experience a little of everything.
Laughlin will never be considered a boring off-road course, and not paying attention to the terrain can lead to quick mechanical failures for the best of drivers.
Colorful Southern Californian Joe David, always a tough off-road racer from Ridgecrest, is always a good gauge of the sport – and he liked what he found at the annual Rage at the River showdown.
"I ran in Class 1 Unlimited," David said. "We were leading on time and I hit a really sharp edge that caused two flat tires all at the same time.
"Aside from having that one issue, we did very well and we had one of the fastest cars on the track. I was first in class and fourth overall."
However, it may be the photo after the race that told a point considering that a car with a good finish still needed significant post-race work to be ready for the next event.
With no time for rest, David's team will prep his car for the Parker 425.
Justin Cockerel was the winner of the Class 9 category, a huge accomplishment considering the field of cars in the class.
SNORE'S registration guru Sarah Koeth knows first-hand about what Laughlin has to offer. In fact, she said one off-roader from Australia bought a Class 10 car for this year's race.
"I have been fortunate enough to race in off-road events since I was 18 years old," Koeth said. "Laughlin has never been nice to me or my race car. The moon bumps are very high deep rollers that are back-to-back. You cruise for a while and for some of the faster drivers like Bud Ward, their foot is to the floor the entire way through everything.
"Every year seems to get larger at Laughlin," she said. "I even got a call from someone in Australiawho bought a Class10 car and raced Rage at the River.
SNORE president Kenny Freeman, himself a key member of the club, said the Laughlin tourism folks were ecstatic with the participation.
"This was the first time the new director had been to Laughlin's largest off road race," Freeman said. "The BLM estimated the crowd at 17,000 fans and the Tropicana resort – next door to the race track – was sold out. The action was fierce and went from sunup to sun down."
SNORE's year-end banquet will be presented at Sam's Town Casino in Las Vegas Jan. 11.
RACE NOTES: The top three performers are Chad Cummings (Class 12), Fernie Padilla, and Garrett Curran (both 1600).
By Mike Henle
www.mikehenle.com