Glorious Day Welcomes 51st SNORE 250 Off-Road Race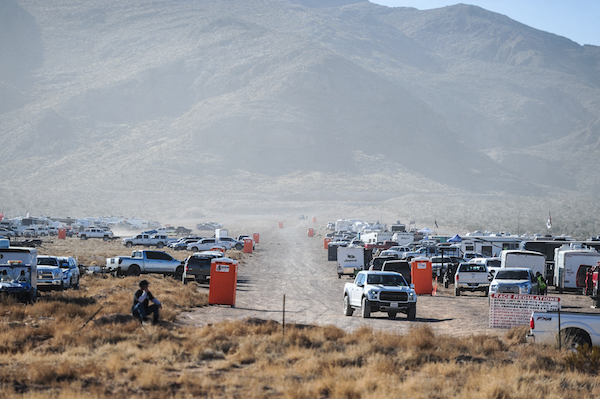 JEAN, Nev. — As the motorsports world hit another high recently in Southern Nevada, the 51st Annual PCI Race Radios SNORE 250 presented by Terrible's rocked this valley about 40 miles south of Las Vegas.
Some 90 entries started the event on a glorious day highlighted by an event that has been part of the Southern Nevada auto racing climate for more than 50 years. In fact, the SNORE 250 once participated on the grounds of what is now a very posh Spanish Trail, where huge custom homes dot the southwest Las Vegas Valley.
The scenery may have changed over the years, but the competition has remained at a very high pitch about 40 miles from where the legendary Fritz Kroyer once captured one of the most memorable off-road racing victories after rolling his car on the first lap.
For those working the I-15 freeway on this weekend, off-roading was glued to the competition making the sport of off-road racing a popular experience in an area that also includes a motorsports Mecca collection of vehicles that make up a fascinating collection of vehicles.
No one has ever accused Southern Nevada of sleeping late, especially when talking about off-road racing, a sport that offers its own collection of special terrain and special people.
Las Vegas is once again at a fever pitch whether you're talking about NASCAR weekends at Las Vegas Motor Speedway or off-road racing at one of Southern Nevada's designated course layouts.
While the off-road racing industry is ideally rough and tough, there's an element of the sport that creates long-term friendships no matter what the class or category. The sport offers never-ending challenges in a sport that remains endless in memories and challenges.
As once stated by former SNORE President Tommy Ford,"off-roading is a dynamo of high-speed engines, energetic drivers and never-ending friends."
In the case of former SNORE president Kenny Freeman, it was time for him to get back in a race car; and in the case of new president CJ Hutchins, it was time for him to leave the race car behind so that he could assume Freeman's old job of president.
Indeed, in the sport of off-road racing, everyone has multi-talents simply because the sport demands it.
The SNORE 250 once again included a stellar field in numerous classes.
Justifiably, the sport of off-road racing finds its way to pat people on the back; either through accomplishments during the inner workings of SNORE to their places during races.
For the past five decades, SNORE has featured non-stop action no matter what the challenge whether it's highlighted during a late-night meeting or while on the race course chasing the checkered flag.
What is so interesting about the most recent event was Terrible's and what the company has done assembling a homerun casino that even includes a fascinating collection of old automobiles ranging from the late Mickey Thompson's earth-shaking "hot rod" many years ago to numerous others.
It was auto racing history at its best, with everything from a very challenging layout to an off-road course that could create big-time breakdowns if the competitor didn't work the course with respect.
Overall winners include Adam Householder in Class 1; James Ford in 10, Chad Cummings, 12; Fred Hatch, Unlimited Truck; James Williams, 450; Tyler Romero, 5 Unlimited; Ruben Garcia, Jr., 5/1600; Mike Montes, 1/2 1600; Jason Coleman, 6100; Billy Worthing, Trophy Lite; John Winn, Class 9; Karissa Shields, Stock Cug; Cody Mitchell, SXS NA; Jay Rossi,1450; Tyler Hutchens, 2000; Joe Bobette, 3900; Sarah Koeth, 1300 Limited Sportsman; Ron Pace, 1500; Ken Freeman, Nostalgia; and Javier Wong, SXS Ultra Four.
By Mike Henle
www.mikehenle.com
Mike Henle is a 69 year-old freelance writer who specializes in auto racing and new car reviews for www.mikehenle.com.