Fourth annual Mint 400 Desert Clean-up scheduled Feb. 29 near statues in Jean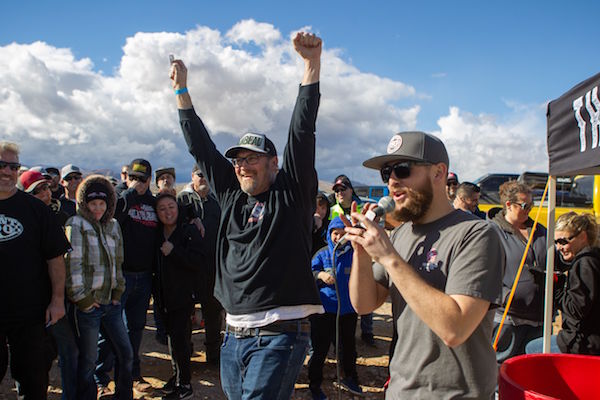 By day, Jeremy Walters is the Community Relations Manager for Republic Services in Las Vegas. Since he was a youngster, he's been riding motorcycles in the desert, and keeping the desert clean is vitally important to the long-time Las Vegan.
Each year for the past four years, Walters and his fellow employees at Republic Services have played a big role in cleaning up the desert by calling for help from the many environmentalists of Southern Nevada to present the fourth annual Mint 400 Desert Clean-Up.
Together, Walters, his friends and fellow competitors will kick off the fourth annual Mint 400 Desert Cleanup presented by Republic Services Feb. 29 in Jean, Nev., scheduled from 9 a.m. until 12 p.m. in Jean. The clean-up site is situated near the collection of colorful statues on the east side of northbound Interstate 15.
Walters also explained that the biggest source of trash left in the desert is items left after shooting enthusiasts finish using targets for practice.
The goal of the event is to unite the off-road community and clean up waste dumped illegally in the Jean area, as well as promote sustainable habits and responsible public land use to improve Southern Nevada's pristine desert landscape.
The Mint 400 Desert Clean-Up event is presented by Republic Services, and held in cooperation with the Southern Nevada BLM Office.
Matt Martelli, the CEO of Terranaut in Oceanside, Calif., and one of the innovators of the Mint 400 Desert Race, said the efforts require a teamwork effort.
"We could not do this without the help from Republic Services," said Matt Martelli. "It wouldn't be economically viable to even collect this much trash and get rid of it; let alone recycle it without them. It is important to us that we show the world that we are responsible for land use and lead by example. No one is coming to save us and we need to save ourselves."
Walters concurred with Martelli adding that the topic is vitally important, especially in Southern Nevada. The biggest concern now is the violators that dump large appliances such as refrigerators, televisions sets and furniture before shooting the materials and leaving damaged goods behind.
"That ranges from televisions to radios, and even cars that have been left with bullet holes," explained Walters, who added that damaging the desert is a wide-ranging problem that stretches from one of end of the Las Vegas Valley to all areas.
"Off-roaders should all be environmentalists," said Walters. "As I know first-hand, the point of being an off-road racer is to escape the stress and congestion of the city to enjoy the beauty and adventures of the wilderness. In the meantime, we also need to keep the desert clean."
Those seeking further information should email jwalters4@republicservices.com.
By Mike Henle
www.mikehenle.com