SNORE Returns to the Colorado River in Laughlin December 13-15 For McKenzie's Rage at the River Off-Road Showdown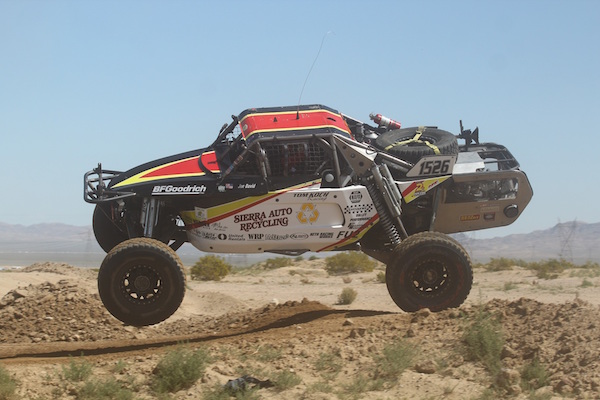 LAUGHLIN, Nev., —Off-road racers have no reason to slow down as the Christmas season continues. As it has been the case for the past several years, off-road racers will invade this community along the Colorado River with vengeance during the first week of December.
Laughlin has such rich history that its annual return to the area founded by Don Laughlin has become an automatic on the six-race SNORE schedule.
The Patrick's Signs Championship Series, which started with the PCI Race Radios 50thSNORE 250February 15-16 in Jean, Nevada, will culminate with the McKenzie's Rage at the RiverDecember 13-15.
In fact, the main brass of the SNORE board of directors has become so confident of the event that this year's showdown is expected to draw about 300 entries featuring a very fast short course. Not to mention a view from the starting line that is so picturesque that professional photographers seemingly mark the event down on their calendars.
Among the highly regarded competitors is Class 1 charger Joe David, an aggressive member of the off-road racing industry whose father, Tom Koch, won the Mint 400 more than twenty years ago.
The colorful 34 year-old David is the perfect example of a fun-loving personality combined with a lead foot to create what is undoubtedly the ideal combination in a race car driver with arace machine.
With a course that has been selected for numerous races each year, racers know they have little room for mistakes, especially when you spend the entire event with your foot to the floor trying to escape a stellar field of drivers in Overall, Class 1, Class 12 and Class 10.
"It's because it's a SNORE race," said the 34-year-old David, who has been competing for about 20 years. You get some very good competition, and there are some good cars there.
"I have a lot of friends in the off-road community who are great people and they will help you in need. It's definitely a family that you have outside of your normal life."
David and his father also own an auto recycling business in Ridgecrest, California. He and fellow racer Chad Cummings are both members of the Checkers Off Road Racing Team.
"As of now, we plan on going for the Class 1 Championship in Best in the Desert with an engine built by Adam Wik," David said. "Adam builds a lot of motors for the top teams. He has a proven record."
Next year's competition will include some top-flight drivers including Class 1 drivers James Dean, CJ Hutchins, and Sam Berri.
Class 12 driverChad Cummings, 51, has been running with SNORE for a few years. He won the Class 12 championship two years ago.
Cummings had an especially busy year in 2017 competing in Class 12, 1-2 1600, 5 Unlimited, Class 1, and Class 5-1600.
"Off-roading is a sense of accomplishment," he said. "You try to have fun as an adult or as a youngster. The whole SNORE family is among the reasons I keep coming back. It's very family-oriented."
Laughlin wasn't always the busiest scene during the December months. SNORE's dedicated souls invadethe town, waving a no-lose contract and excellent fields that literally pack the town. What Laughlin found was action, color, and never-ending competition with drivers invading the city for fun and top-notch racing.
The Laughlin race is almost addictive, since it provides the perfect playground and endless impressive rooms so that fans, competitors, pit crews and sponsors enjoy themselves.
As the racing gods explain, Don Laughlin discovered the city from an airplane. The grounds were reportedly a defunct fishing village along the Colorado River that Laughlin saw as a promising future village.
While Laughlin saw a future filled with hotel casinos and valuable real estate, it's not known whether he would realize that it would also become a haven for off-road racing. Situated about 100 miles south of Las Vegas, Laughlin suddenly became a getaway.
Needless to say, the brilliant minds of SNORE and Laughlin saw aperfect marriage of off-road racing and hotel-casinos during Laughlin's last month of the year.
By Mike Henle
www.mikehenle.com