2020 Patrick's Signs Championship-sponsored Battle at Primm heads for Primm for an off-road extravanza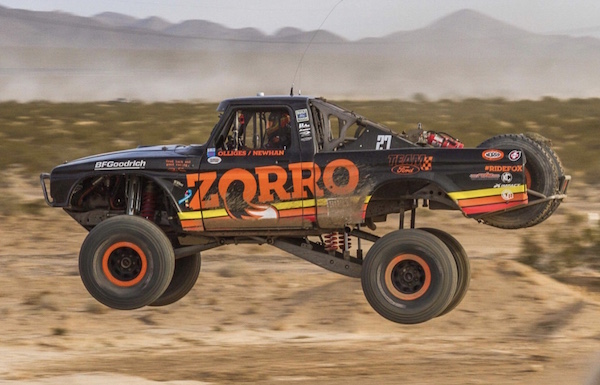 SNORE's annual King Shocks Battle at Primm scheduled Oct., 10-11 south of Las Vegas is once again drawing an excellent list of entries long before from several states.
In a nutshell, SNORE's race schedule has been a blessing for competitors all year long. Major conventions like the SEMA show have been forced out, and so have other auto racing events. However, SNORE's Battle at Primm is rock-solid.
It's time for SNORE to toss the bad and welcome the good, so the King Shocks Battle at Primm is back in town signaling good times for the first time in many months.
Founded more than 50 years ago, SNORE's dedication to the sport and the city of Las Vegas are unmatched. Nobody can touch the group of dedicated souls.
SNORE comes to play, and it also comes to entertain no matter what the challenge. The group has survived endless challenges during its lifespan.
SNORE drivers rack up endless miles to compete in off road races. Much of the reasoning is based on the fact that SNORE delivers and it creates a fun atmosphere.
Young and old alike patronize SNORE for a multitude of reasons. Traveling to a SNORE race doesn't slow down drivers either. In fact, families simply load up their motor homes knowing well that fun is not far away.
Young and old alike show up every year for a SNORE race. Equally important is the fact that drivers have a choice and many head for SNORE's events first.
Drivers who could have stayed home all head for a SNORE event simply because races are all attended and jam-packed with great fields smiles that can be seen for hundreds of miles.
There is an evidence that some drivers would rather run for SNORE and there's no better example than Steve Olliges, Justin Davis and Jason Coleman — all top-notch competitors who could race any off-road event in the country. By the middle of September, an estimated 215 drivers had entered the Battle at Primm, so there's no reason to go anywhere else but Las Vegas.
The likable Olliges travels to races all over the world, and the Battle at Primm is among his favorites. His Zorro Class 8 Truck is among the top entries entered in the race.
"SNORE is consistent," Olliges said about the off-road racing group. "They're very dedicated to the sport, the fans and the competitors. Putting together a consistent program is not easy considering the many challenges that come with every single event. I admire their efforts and the many hours that SNORE puts into off-road races every single time."
Olliges's first SNORE race was 1982 when he drove a Class 9 car owned by Ed Herbst. The car was a single seater and ironically enough, both OIliges and Brian Collins rolled the race car in 1982 at SNORE's Bottom Dollar. Needless to say, both Collins and Olliges are now addicted to the sport of off-road racing.
Olliges praised the SNORE people adding that they make their races fun. Drivers like Jason Coleman, Olliges and Justin Davis are especially in demand.
"You can't miss with SNORE," Olliges said. "They always fun. We are also three time winners at the Battle of Primm."
Multi-time SNORE president Kenny Freeman echoed the word of many SNORE regulars.
"We have fun in SNORE races," said Freeman, "and try not to take things so serious."
In addition, many of SNORE's regulars grow up together to become life-time friends.
By Mike Henle