Justin Davis Powers to Midnight Special Victory Under the Lights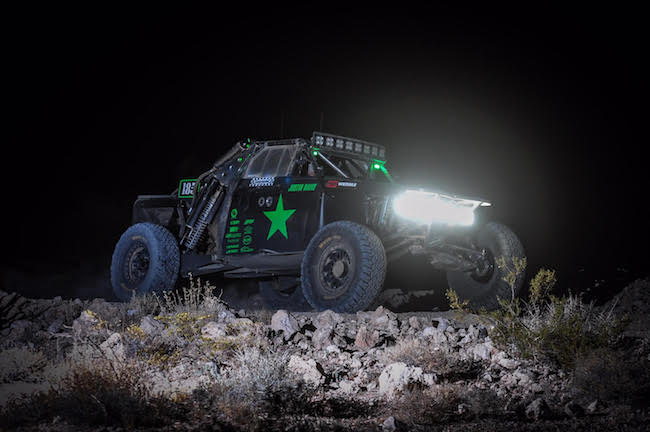 The KC HiLites sponsored Midnight Special off-road race is again in the books after its journey into the darkness of Southern Nevada July 24-25, and as usual, the Southern Nevada Off-Road Enthusiast (SNORE) group went home feeling good about themselves – and for good reason.
You see, while off-road racing is difficult to predict and even worse to complete, the KC HiLites sponsored event went to work early and came home late in Jean.
However, that's nothing new to off-road racers, who show up early and leave late for one of America's most fascinating motorsports presentations in Southern Nevada.
For the past several years dating back to times when some off-road races were run only in the daylight, the latest Midnight Special updated the world of off-road racing by watching the KC HiLites' entry into a sport that started as a journey and continued as a example of what people can do when brilliant minds work together.
Every auto racing promoter in the country takes a chance when he or she it puts its money where his (or her) mouth is – and that was hardly different this time either. A strong field entered the race and you can bet that the DNF file was bigger than ever in a race dominated by ruts, washes and boulder-sized rocks.
For the record, talented off-road competitor Justin Davis captured the overall and Class 1 titles.
Officials agreed that large rocks – otherwise known was boulders – were the biggest challenge for the field of about 92 entries especially when drivers needed to pit for tire changes, according to long-time SNORE official Jon Pellissier, who has watched the club for about three decades.
"There were no big issues," Pellissier said. "In addition, there was a full-house of fans and the race went on without a hitch. It started on time and the pleasant breeze topped off a magnificent evening for all involved."
This year's overall victory in SNORE's event went to Jimco Racing's Justin Davis, who has become a regular on the SNORE schedule, and he's showing no idea of slowing down any either.
Davis has been taking the competition by storm capturing his victory in a very fast Class 1 entry at SNORE's event that took place July 24-25 in Southern Nevada.
SNORE continues with the 2020 season with the running of the King Shocks Battle at Primm Oct. 9-11.
Photo compliments of Richie Abbott/Instant Images
By Mike Henle